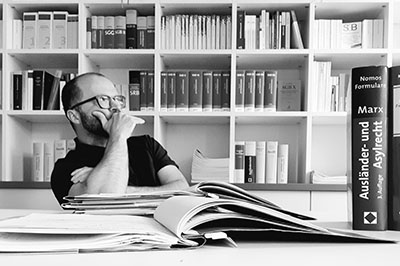 THE LAW OFFICE
Dr. Christian Scheibenhof has been working as an attorney since 2009, and was awarded the title of specialist for immigration law by the bar association of Thuringia in 2018.
Dr. Scheibenhof is assisted by three high capable paralegals who have received special training in immigration law. They can provide initial, non-binding information about the nature of your legal problem and the basic costs incurred.
Dr. Scheibenhof has assisted legal counseling centers, humanitarian organizations, schools, church associations, public institutions, and private individuals. Dr. Scheibenhof is a member of numerous professional bodies; is a legal advisor to the Caritas Association; and is an instructor in refugee law at the University of Jena.
Dr. Scheibenhof provides legal counsel that is informed by the latest developments in immigration law. He assesses the legal situation faced by his clients based on a thorough review of relevant judicial decisions and is also well versed in the political and legal circumstances prevailing in immigrants' countries of origin.